The Top 5 Things We Will NOT Do in 2022! 12.29.2021
If your inbox looks anything like ours right now, the last thing you need is a generic 2021 recap or a run-of-the-mill outlook for 2022!
Never inclined to jump on a bandwagon, we'd like to offer you something a bit different, and with that being said, here is what we at Towerpoint Wealth will NOT do in 2022:
1. We will NOT glean our news from TV nor from social media
It takes a herculean effort to source truly objective and reliable news nowadays. And unfortunately, for the most part, stories we see and hear on TV do have some sort of slant or bias, that even extends to the numbers and statistics presented. Everything feels politicized, and it can be extremely difficult to separate fact from fiction, and/or opinion from objectivity.
Are you skeptical or trusting of the news media?
It obviously is important to recognize that news is negative by design, and that impressions and clicks are fast replacing television Nielsen ratings. And understanding that the fight for eyeballs (and concurrently, advertising revenue) is as intense as ever, negative stories have always sold.
What to do? Read the news, don't watch it on TV. If you are liberal, read conservative sources. And if you are conservative, read liberal sources. Put differently, understand that completely unbiased reporting is challenging even for the most seasoned journalists; look for the whole picture, be mindful of having a "deep bench" of diverse and well-rounded news sources (click HERE for a good head start), and do not become pigeon-holed into only reading stories that feel right and feed into your belief system.
We value the importance of having convictions and opinions, but be disciplined enough to have opinions that are formulated from a solid foundation of quality information and sources. Read carefully, and trust cautiously.
2. We, and our clients, will NOT be misled by "lonely numbers"
"The world cannot be understood without numbers. But
the world cannot be understood with numbers alone."
-Hans Rosling, Factfulness
Numbers and statistics can appear to offer support or even hard proof about a particular issue. However, without a larger context, they can be meaningless or even misleading. The world of wealth management, investing, and economics is awash in numbers and statistics, and we will continue to be mindful and think hard about how to help our clients appropriately interpret and find meaning in them.
Additionally, our clients expect us to be statistically literate, and we acknowledge and embrace the fact that part of our job is to figure out exactly what story the numbers tell, and why it matters. Data is an important tool for allocating capital, developing strategy, and making tactical decisions as circumstances change and evolve, but incomplete or incorrect data can muddy the waters and create a false sense of safety and a false sense of urgency (see number 3 below).
Click HERE and HERE to review two excellent sources about misleading graphs.
3. We will NOT lose perspective during this, or the next, crisis
Use of the word "crisis" in news stories may be at an all-time high, with reported crises involving:child-care, college dropouts, immigration, the climate, Sudan, homelessness, rural healthcare, Scandinavian money laundering, avocados, the automotive industry, Iran, Moldova, Pakistan, Israeli bacon, Trump's reelection prospects, and Canadian national unity.
At Towerpoint Wealth, we are attuned to reports, numbers and statistics, but never are we reactionary to the hour-by-hour developments in the economy and financial markets. In the case of a reported crisis, we encourage you to follow our lead. Take a deep breath before hitting the panic button, and try to consider a larger context. There is always a broader, longer-term narrative with every news story.
4. We will NOT take outsized risks in pursuit of outlandish growth
While we faithfully execute on the customized plans we establish in tandem with our clients to compound and grow their net worth and assets, we recognize that protecting that net worth is just as important as aggressively growing it and will only take calculated and justified risks.
The math behind "making up" for investment declines speaks for itself:
If you suffer a 50% loss, you will need to DOUBLE your money to get back to break-even!
We are also quite mindful of the following:
The only thing people hate more than losing money is the person who lost it for them.
5. We will NOT lose confidence in the longer-term health of our country, our society, our government, the American economy and the American dream.
Some argue that the American Dream has become a nightmare. We vehemently disagree. No matter who we are or where we're from or what we look like or who we love, the American Dream excludes no one. Our core values as a nation are not Republican nor Democrat, not conservative nor liberal, they are American ideologies. And as we head into 2022, we believe that Julian Castro's quote sums it up well:
What's Happening at TPW?
A rare photo of the Grinch (aka our Director of Operations, Lori Heppner), sneaking around on Christmas Day!
Our Director of Research and Analytics, Nathan Billigmeier, took his son Ethan to his firstSacramento Kings game last week at the Golden1 Center. The Kings didn't win, but both dad and son had a great time!
Don and Beth Parvin, two important Towerpoint Wealth clients, were in the office for a review meeting last week, and gifted a sweet throwback Christian Brothers High School winter jacket to our President, Joseph Eschleman, which, though our offices are heated, he just had to try on.
Happy Holidays, Don and Beth – thank you for your generosity!
TPW News You Can Use
Useful and interesting content we read the past two weeks:
I Got COVID Three Times
– BuzzFeed News – 12.23.2021

Yes, you can get COVID twice, and even more. While this situation is incredibly rare, this is a story of a person who was directly exposed to the virus (or parts of it that trigger an immune reaction), five times. "My antibodies should be as jacked as an Instagram bodybuilder. But apparently, they're not…"


A-Rod Building Business Empire After Controversial MLB Career
– BNNBloomberg – 12.23.2021

Alex Rodriguez had one of the most successful – and controversial – careers in Major League Baseball history. Now eligible for the Hall of Fame, the baseball world continues to weigh his lofty achievements against his sins. However, his goals in business have been as lofty as his athletic endeavors, and his ambitions are accelerating.


Will Apple or Microsoft Hit $3 Trillion Next Year? 10 Tech Predictions for 2022
– SeekingAlpha – 12.24.2021

Wall Street has started its annual "look-ahead" predictions for 2022, with Wedbush Securities Dan Ives predicting big growth in the NASDAQ, the metaverse, cybersecurity spending, and the cloud, along with a moderation in the microchip shortage.
Chart/Infographic of the Week
A great legend at Merrill Lynch for several decades, Bob Farrell had a front-row seat to the go-go markets of the late '60's, mid '80's, and late '90's, as well as the brutal bear market of '73-'74, and also the October of '87 crash. He was a pioneer in investor sentiment studies and market psychology, and perhaps was most famous for his Ten Rules for Investing, which are still passed around on Wall Street today: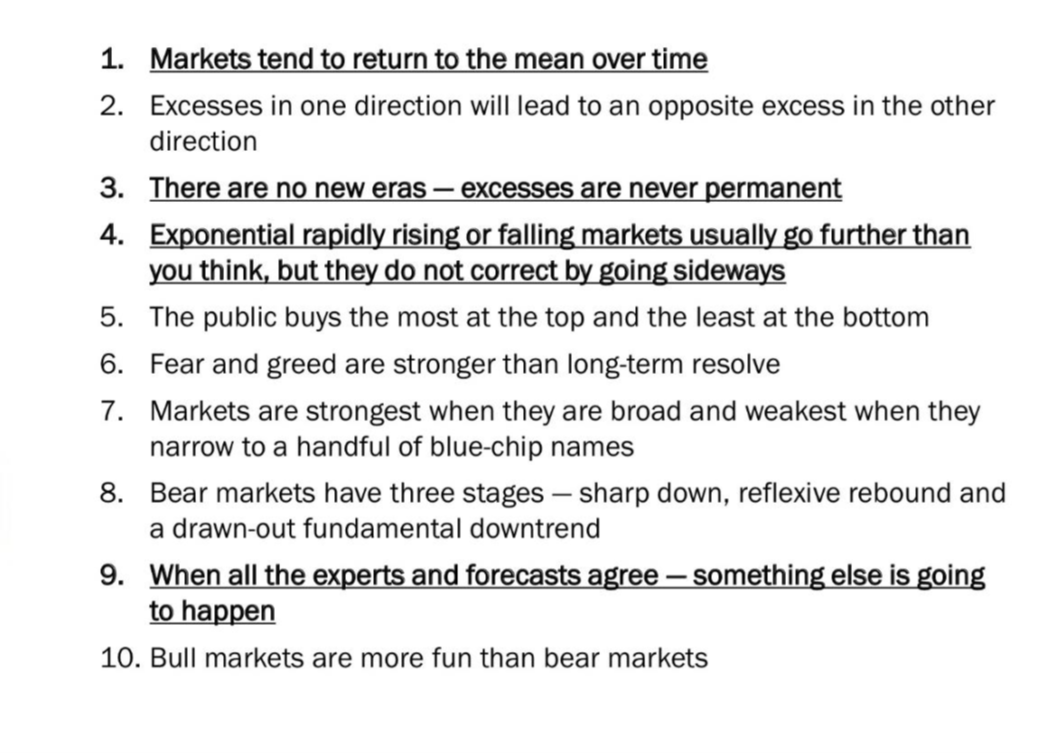 Quote of the Week
Having a strong disdain for the scientific pretensions and formal apparatus of modern economics, and despite his Harvard professorship, John Kenneth Galbraith was never really an economist in the ordinary sense. He believed that the math and numbers-crunching missed the point, and was a full believer in being careful not to fall prey to paralysis by analysis.
Trending Today
As the 24/7 news cycle churns, twists, and turns, a number of trending and notable events have occurred over the past few weeks:
As always, we sincerely value our relationships and partnerships with each of you, as well as your trust and confidence in us here at Towerpoint Wealth. We encourage you to reach out to us at any time (916-405-9140, info@towerpointwealth.com) with any questions, concerns, or needs you may have. The world continues to be an extremely unsettled and complicated place, and we are here to help you properly plan for and make sense of it.
– Joseph, Jonathan, Steve, Lori, Nathan, and Michelle
We enjoy social media, and are actively growing our online community!

Follow us on any of these platforms, message us there and let us know your favorite charity. We will happily donate $10 to it!
Click HERE to follow TPW on LinkedIn
Click HERE to follow TPW on Facebook
Click HERE to follow TPW on Instagram
Click HERE to follow TPW on Twitter